Betfair Welcomes Winners.
Whilst a little corny, the above statement really encapsulates how important Betfair is to matched betting. Whilst all the bookmakers are fighting a battle to retain only 'profitable' (aka losing) customers, Betfair really do not care how much you win.
That means you can place thousands of bets without any fear of the dreaded gubbing.
Using Betfair can be a bit overwhelming for anyone new to matched betting. There are lots of new and weird terms being used, so this guide is here to get you 100% clued in with how Betfair works.
If there's anything you want to learn about Betfair, I guarantee it's here in the Definitive Betfair Australia Guide. Use the table of contents below to see everything the guide covers.
---
No guide to Betfair would be complete without a little bit of history and an explanation of how Exchange Betting works.
The History of Betfair Australia
Betfair was originally founded in 2000 with the ambition of being a middle man between people with opposing views. In other words, their aim is simply to place your money against someone else's money. In that scenario, there's no need for Betfair itself to pay out any winnings – your profit comes from the people betting against you.
Since 2000, Betfair has expanded to cover over 50 countries across the world. They merged with the UK's biggest Bookmaker, Paddy Power, in 2015 to become on of the biggest betting operators in the world.
Their Australian launch in 2005 wasn't without controversy with the Western Australian government soon taking legal action against Betfair. Why? I suspect because they wanted to protect the existing influential bookmakers. Fortunately, the legal action failed and Betfair has operated in Australia ever since.
When they entered Australia in 2005, they did it as a join partner with Crown Resorts who you might recognise as owning most of the major casinos in Australia. In 2014, Crown Resorts bought out the rest of Betfair's stake in their Australian operations. That means you're officially betting with Crown Resorts but using Betfair's worldwide technology platform.
To understand why Betfair is different to all the other betting operators out there, it's important to know the difference between Exchange and Bookmaker. I've already alluded to the fact they connect punters to bet directly against each other, which is a very different business model to a traditional bookmaker.
Exchange
Betting head-to-head against other people.
Choose which odds to bet at.
More complicated to use.
Charges commission on winnings
No restrictions or limitations.
Back and Lay events.
Single win bets only (one specific event).
Bookmaker
Betting against the bookmaker themselves.
Bet only at the exact odds offered.
Very easy to use.
Profit margin built into odds.
Restrict winning/unprofitable accounts.
Back events only.
Multiples and accumulators offered.
One of the most interesting differences to call out is the differing revenue models. An exchange makes profit through charging a commission (between 2 – 10 percent) on any winnings. In comparison, bookmakers need to reduce their odds so they can guarantee a positive over-round. In layman terms, the bookmakers offer lower odds so they can ensure a profit no matter what the end result is.
The impact of this on your betting is that an exchange often offers better value even when the commission is taken into account because bookmakers impart a roughly 20% margin on their odds.
If you're interested in learning how bookmaker over-rounds work, you'll struggle to find a better explanation than this guide by Caan Berry. From this point onward, I'll be focused entirely on how Betfair works.
How a Betting Exchange works
If you're new to betting exchanges, the peer to peer betting model can be very confusing. This guide aims to simplify the concepts involved and make exchanges more accessible to everyone.
The best way to think a betting exchange is that you're simply betting against one of your friends. In this scenario, let's imagine we're betting on the outcome of a coin flip. It's a normal coin so it's got a 50/50 chance of landing on either side.
If myself (David) and John are betting on the outcome of a coin flip, we'd both put in $10 and the winner would take the whole pot ($20). That's odds of exactly $2. To make it so we can't cheat and run away with our money if we lose, we give an impartial friend (Daniel) our cash to look after.
We flip the coin and I call out 'Heads' and (this being an imaginary scenario), I win! So of course, I collect my winnings from Daniel. For the inconvenience of having to look after the money, he takes $0.50 and I walk home with a $9.50 profit. John is down $10.
Remember: Only winning $9.50 is not a bad result on a coin flip compared to normal bookmaker odds. With a 20% margin you'd only expect to get odds of $1.9 on a coin flip – netting you only $9 profit.
Connecting us back to betting exchanges, Daniel was acting as our betting exchange. Connecting myself and John with a trusted and impartial place to bet against each other. That's exactly how Betfair works but on a much larger scale.
Different Exchanges available in Australia
Probably the shortest section in this entire guide. Betfair is the only betting exchange available in Australia.
Other companies have tried launching but have always pulled out of the market after a couple of years (notably Matchbook). It's hard to compete against such a dominant market player like Betfair!
The main Betfair homepage
The Betfair homepage makes it really easy to navigate around all the different betting markets and other features they have. I've placed a screenshot below with an explanation about each area.
Area 1 – Main Navigation – This is primarily where you will navigate to the different features Betfair offers. In-Play and Cash Out are prominent before allowing you to head directly to specific popular sports. From this bar, you can also navigate to Betfair Live, The Hub and Results.
Area 2 – My Account – This shows your current balance (mine is hidden) and is where you navigate to any account settings, bet history, depositing or withdrawals. It's from the menu here that you can also get to the player protection tools.
Area 3 – Advice, Tips & Guides – Betfair offers guides and tips on how to use their exchange, including a lot of detailed content about using it like a stock trading platform. More on that later!
Area 4 – Sports – Here you can easily navigate to any sport you want to find. On clicking a sport, this side bar stays where it is and allows you to drill down to any specific event as well.
Area 5 – Current Highlights – The most popular events will be highlighted here and you can place a bet directly from the homepage. Where applicable, hovering over the TV symbol tells you what channels the event is being shown on.
Betfair covers all the major sports you might ever want to bet on, including AFL, NRL, Soccer, Boxing and Horse Racing. This makes it perfect for matched betting as there is almost always a Betfair market to lay your bet with. In the example below, I've selected Horse Racing in the main navigation bar (Area 1).
As you can see, I can navigate to betting markets in two different way:
Left Sidebar – I have navigated from Horse Racing > Australia > Hamilton so my sidebar is showing all the races available for betting at Hamilton racecourse. Selecting any of these races takes me directly to the betting market.
Racing Times – The main section of the screen is showing all the races, filtered by day, with available betting markets. You can see that it's currently showing all Horse Racing in Australia but there are also markets for American, French and Swedish races.
Plus, there's a bonus way of finding a betting market that's quicker than anything else…
The Search Bar – At the top of every page is the search bar which allows you to find any event, market or competitor very easily. Just type in your search query and it'll suggest the different markets you might be looking for. Below is my search for the 'Hamilton' races shown above. As you can see, it also comes back with markets where someone like "Lewis Hamilton" is available to bet on.
In the next section, I go into detail on how you can place bets with Betfair.
---
At its core, Betfair Australia is a marketplace for people to find and place bets. Their interface is designed to make this as simple and easy as possible whilst also providing detailed information for advanced users. For matched bettors, the key concepts to follow here are Lay Bets and Liquidity.
Once you have navigated onto a market page, you're presented with a page that is rather more detailed and complex than most bookmakers you might be used to. In this example, I'm going to move over to a Soccer match. Here is a breakdown of what you see:
Area 1 – Event Details – This section covers all the details on the event and key market you're currently betting on. This includes the event, date and rules. Where it says 'Matched: AUD 504,230' on the right hand side is the market depth, a concept I explain a little further on.
Area 2 – Available Results & Odds– Here you can see the different results you can bet on, either team to win or the match to end in a draw. On the right side is your available betting odds. The best available odds for Backing (Blue) and Laying (Pink) are shown with block colour behind.
Area 3 – Other Markets – This area isn't shown on all markets, it is dependent on the popularity and number of markets available. In this case, we can see a variety of other popular markets for the Dortmund v Bayern Munich match. These can be navigated to directly using the left hand sidebar.
Area 4 – Place Bet – When you select a result and price you'd like to take, this is where you enter your stake and submit your bet. To activate this area, simply click on one of the blue or pink boxes. There are 2 tabs, where the second tab will show any existing bets you have on that market.
Placing a Back Bet is exactly the same as in any traditional bookmaker. You are choosing to wager a certain amount of money, returning a profit if the result your betting on happens. Unique to the exchange, you're able to choose what odds you're willing to take! In the below screenshot, I have selected 3.8 as the odds I wish to place a bet on.
I have selected 3.8 but I could also have chosen to place my Back bet at available odds of 3.7 or 3.75. These would return me less profit, so I have no reason to do this. However, it does also mean you can adjust your requested odds higher than the available odds. To do this, I need to open up the 'Place Bet' window by clicking on the blue 3.8 box.
Here, you can see that in the 'Odds' box I'm looking to place my bet at odds of 3.8. I can easily adjust that figure to 3.9 or higher. However, in order for my bet to be placed, it needs to be matched against someone else's bet. I talk about the Matched vs Unmatched concept in the next section.
Placing a bet from this screen is really simple. Enter your Stake, in my case $100 and Betfair will display your profit before commission. This is not exactly how much will be in your account should your bet win. Your winnings are charged commission, a concept that I explain in detail shortly.
At the time of writing, the best odds available at bookmakers for betting on Dortmund to win were just 3.6!
Best Priced Bookmaker – $100 Stake Wins $260 Profit
Best Available Exchange – $100 Stake Wins $266 Profit
That's including any commission charges. I know which I'd rather have.
Matched vs Unmatched Bets
Placing any bet at an exchange requires money to be available at the odds you're requesting. In our analogy of betting against your mate, they need to be happy to bet against you at the odds you want. If nobody is willing to bet against you at that price, you won't be able to place your bet.
The odds available at Betfair are constantly shifting and moving, so they have a concept called unmatched bets. This means you can propose a bet at high odds and see if someone is willing to bet against you. If they aren't your bet will be cancelled once the event starts.
This is me requesting a bet on Dortmund at odds of 5.0 where you can see it's currently unmatched. Frankly, it's very unlikely that someone's willing to bet against me at those odds, they're massively in my favour. However, this is a useful concept when you're trying to do matched betting and just a small change in price can impact your profits.
Notice that you can actually choose whether to Cancel or Keep your unmatched bets once the match goes in-play. This means that if Dortmund go 1-0 down and their odds of winning reduce dramatically, my odds of 5.0 will likely get matched because they're suddenly going to be very good odds to bet against.
When I cancel my unmatched bet, my stake is returned to me with no penalties.
Side Note: If you're matched betting, leaving unmatched bets to run in-play is risky. Odds shift up or down very closely aligned with real-time. That's much faster than you can react.
This is the incredible concept unique to betting exchanges. Simply put, it is the ability to bet against an event happening. I go into more detail on the concept of Lay Betting in my matched betting fundamentals guide.
Here's an example of placing a Lay Bet against Dortmund to win. My Lay Bet will win in the event of a Draw or a Bayern Munich win.
The most important concept to understand when lay betting is that you are betting to win your stake. In the example above, I am looking to win $100 (minus commission) if my bet wins.
The liability is the amount you would lose if your bet loses. In this example, we lose $285 if Dortmund win the soccer match.
We are also able to place unmatched bets here by adjusting the 'Backer's Odds' we are willing to accept. Ideally we want those odds to be as low as possible to reduce our liability.
Put simply, liquidity is the amount of money available in a betting market. Comparing this to our analogy of betting against our friend, if I want to bet $1,000 on the coin flip and he only has $10 to bet… we have a problem! That's a market with relatively low liquidity because there isn't much money available to bet against.
In contrast, if our friend is very rich and is willing to bet $100,000 on the coin flip then that's a very liquid market. Our $1,000 isn't going to make much of a dent in his pocket.
The way this is displayed in Betfair is through the dollar values displayed beneath the odds.
Our 'to win' market in the Dortmund v Bayern Munich match is really very liquid. If I wanted to place a Back Bet on Dortmund to win, I could easily get a $1,409 bet on at odds of 3.8. If I was willing to take slightly lower odds of 3.75, I could get over $7,000 placed on that bet. For any reasonable punter, these are large bets and so we can say this market has high liquidity.
Let's take a look at some markets with low liquidity in comparison. These are often obscure markets or events with little interest.
This is the market for 'Next Goal' in our Dortmund v Bayern Munich match. You can see that we can only bet $21 on Dortmund to score the first goal at odds of 2.3.
Interestingly, nobody has reasonably backed 'No Goal' and someone is chancing their arm at odds of 70 that there won't be a goal. Most likely this is a bot (a concept discussed later in this guide).
This is the market for a Costa Rican soccer match. Know anyone who follows the Costa Rican premier league? Nope, neither do I.
Here, the maximum I can bet on CS Cartagines at odds of 2.3 is just $13 before I can bet another $9 at 2.26. These aren't very appealing amounts of money.
There are two things you need to know about liquidity at Betfair:
All major events will have good liquidity – The more people wanted to bet on an event, the more money available in the market, the higher the liquidity.
Liquidity always improves closer to the event – Most people bet on events in the few hours leading up to it happening. So, don't be surprised if you see low liquidity for a popular match that's happening in a weeks time. Particularly for horse racing, liquidity is often low until 10-15 minutes before the race itself.
This is a more advanced concept for users who want to take their betting a step further on Betfair. If you're still learning the basics, I suggest skipping past this section on market depth as it doesn't make a significant difference to the average Betfair user.
Market depth refers to how much money is available for betting at different prices on a specific result. The standard interface shows this for the 3 best odds with money available, however market depth refers to the total amount of money against all prices. To access this, you need to click on the graph icon by a result.
This loads up the much more detailed market depth screen.
On the left hand side of the screen, you'll see a graph showing the price fluctuations for the result (red line). This graph also has the amount of money traded on that result (grey bars along bottom). This can come in very useful for seeing what might have happened to the odds of a result in the past.
The right hand side is where we can truly understand our market depth. There are a few things to understand:
Price – This will show all the different prices that people are trying to Back or Lay the result at. You can see that it scrolls up and down past the 3.35 – 4.5 range that I'm showing in my image.
To Back – Displaying all the money waiting to be matched at each price that you can back. It's slightly unintuitive but the 'to back' column shows all the money people are trying to lay against the result. If someone is trying to lay at a price of 3.7 then it becomes money available to be backed at 3.7. Once all the money available at that price is gone, the market will move down to the next best available odds with money available.
To Lay – This shows the same as the 'To Back' column except it's all the money waiting to be matched from people trying to Back the event to happen.
Traded – All the historic matched amounts are listed in this column, showing exactly how much money has been matched at each price. For example, someone got a fantastic deal when they layed $78 at odds of 3.4. That's far better value than laying at the current price of 3.85.
For any beginners looking at this and thinking it feels familiar, that's because Betfair essentially acts the same as a stock exchange. These are the same kinds of figures available within stock markets across the world. I talk about trading in detail further down in this guide.
Betfair Starting Price (BSP) explained
Betfair Starting Price is a concept that guarantees matching your bet during the transition to in-play betting. When placing a bet to be matched at 'BSP', you won't know what odds you're getting until the event starts. This is Betfairs competition with the popular 'tote' betting proposition.
You can only bet at 'BSP' on Horse Racing markets. You need to enable it in your Betfair settings.
Really, the natural question is why does this even exist?
Betfair Starting Price exists because odds fluctuate in the days and hours leading up to an event, usually getting more accurate over time. You could watch the odds for hours, trying to time your bet so you get the best possible odds. Alternatively, you could place a single bet at BSP and know you're getting a price that's fairly reflective of the horses chances of winning.
Over time, this provides far more value than betting with the tote.
To bet at BSP after you've enabled it in your Betfair settings, you'll see a screen like this:
The central column displays the projected odds at BSP. Where you see projected BSP odds that are much higher than the available back odds, it's likely worth opting for a bet at BSP or trying to get a matched bet at those higher odds.
In the above example, I would bet at SP on either Private Profit or Consoling. For Rushin Rhonda, I would try and get a bet matched at odds closer to 12.5 rather than the 8 available. From my personal experience, I have seen BSP be very effective at increasing winnings for horses at odds of 30+.
Betfair have an incredibly detailed FAQ on how BSP is calculated. Well worth reading if you want more detail.
Commission underpins the business model of a betting exchange. Instead of taking a margin on every bet placed on their platform, they only take any revenue from winning bets. This means you need to be conscious of the amount of commission applied to each market.
In their marketing material, Betfair define commission as their Market Base Rate. It changes between sports/territories due to the different licensing agreements with each governing body.
Betfair Australia themselves have produced a clear guide to commission on all their markets:
As you can see, the most costly markets to bet on are NSW Racing (10%), NRL (10%) and WA Racing (8%). If you're matched betting, it's often easier to find your profit on the markets with a lower commission rate.
Confirming what the commission rate is for the market you're betting on is very simple, you need to be logged in and find the 'Rules' button within the Event Details section.
This opens a popup where the commission rate is clearly displayed.
Lastly, it's possible to get a discounted rate on the amount of commission you pay through the collection of Betfair Points. This likely only applies to people who are either trading, gambling with large sums of money or matched betting on a daily basis.
I discuss Betfair Points and how they work later on in this guide.
---
There are some additional features that Betfair offer to make managing your bets that little bit easier.
As previously mentioned, it's possible to allow unmatched bets to continue in-play to see if they get matched. This is generally not an advised tactic as the odds drifting can be a sign that your selection isn't performing very well. However, if you're watching the match or race then In-Play betting can provide some fantastic betting opportunities.
I want to share that In-Play betting is not for the fainthearted, by explaining what's happening as an event moves from pre-race betting to in-play betting. Here is a 3 minute GIF of a horse race purely from a betting market perspective:
You can open a fresh version of the GIF using this link. Using the timestamp in the bottom right hand corner, here's a brief explanation of what's happening:
0:00 – 00:59 These are the final moments before the race starts. Notice how the odds are changing almost constantly, with the total matched amount moving from $50,000 to $95,000 in just 59 seconds. This is an example of how liquidity can improve dramatically in the lead-up to an event.
00:59 – 1:01 The market suspends very briefly as Betfair cancels all unmatched bets (that aren't kept in-play) and calculates the BSP for each runner. This is the transition between a pre-race betting market and the in-race market.
1:01 – 2:40 As the race is run, the horses odds all shift to varying degrees. I suggest watching one individual horse and seeing what happens to their odds. Notice how some horses quickly lose their available lay odds? That's because they were unlikely to win and now they're probably struggling at the back of the field. Nobody wants to bet on a horse like that!
2:40 – 3:00 The race is in its final strides now and it's become clear that the favourite, Mafuta Vautin, is storming away from the rest of the field. He's trading at a very long odds-on favourite price of 1.01. Not many horses lose from going to 1.01 in-running but it does happen!
3:00 – 3:05 The market is now closed and all betting is suspended. The total amount matched is now over $125,000 which shows there's real activity (and therefore opportunity) during a race.
Bookmakers have recently standardised the offering of having 'cash out' available for most bets. This is something that has always been inherent in Betfair's offering as you can just place the opposite bet against your selection.
Fortunately, Betfair has made this much easier in recent years by automating the calculations needed to 'cash out' a bet. Cash out will be available on any markets displaying the following symbol:
If you're betting on a market that has cash out enabled, Betfair will offer you a real-time cash out value based on the odds available. Generally, the way this works is as follows:
Backing a result where the odds get shorter means you can cash out a profit.
Laying a result where the odds get longer means you can cash out a profit.
Betfair displays your cash out value in two places. In my example I have Backed CS Cartagines for $10:
On the Betting Market Page
On the 'Cash Out' page
This 'Cash Out' page shows all the bets you currently have matched that are available for cashing out.
The way cash out works is that it's exactly the same as placing the opposing bet on the exchange manually.
In my example, I could equally place a $9.82 Lay Bet on CS Cartagines to guarantee myself a -$0.19 loss whatever happens in the match itself.
One fantastic feature that Betfair offers is the ability to cash out any amount of your bet using a sliding scale. Clicking on the slider button next to the cash out option opens up a slider that you can move and see what would happen to your outcomes. Notice how the profit/loss values next to each event change to display their potential new values.
Betfair LIVE is perhaps one of the best ways to quickly understand a betting market ever created. For anyone interested in trading or market analysis, this tool is completely invaluable and it's completely free.
Warning: Trading is risky and can result in the significant loss of capital. There is a steep learning curve and few people manage to be profitable long term. Please do your research before trading.
I talk more aboout trading and how you can learn more about trading it later on in this guide.
For now, let me share with you an example of what Betfair LIVE looks like. For now, it is only available on Horse Races:
This can be very intimidating to new Betfair users, so let me briefly explain a little about some of the key figures:
WAP – Weighted Average Price – This graph shows the average price taken for that selection over time. This can quickly show you the trend of whether the horse is increasing or decreasing in price. Of course, past trends aren't a real predictor of future trends.
WOM – Weight of Money – Indicating where the majority of money is waiting to be matched. For most of these horses, people are trying to get Lay bets matched which should in theory help push the price up.
%W– Implied Chance of Winning – Odds are simply a vehicle to represent the chance of a result happening, so this column shows what that chance is via a percentage value. Here, the favourite has an implied 41% chance of winning.
MB – Matched Bets – This displays the total amount trade on that runner and shows this as a percentage of the total trades made within the market.
Avg. Corp Fixed – This cleverly shows the average price each horse is across bookmakers, allowing you to easily spot any discrepancies between the exchange price and bookmaker prices.
Betfair LIVE has a lot of other clever features to help traders. If you're interested in learning trading, head down to this guide's trading section.
---
When you're depositing and storing a significant amount of cash with any website, you need to feel like your money is safe and easy to access should the need arise. In my opinion, Betfair have one of the easiest and most extensive account management capabilities of any betting site out there. Here, I'll share some of the key features Betfair has for managing your account.
The first and most important thing is to have an account open in the first place. Creating an account is completely free and comes with no financial obligations. There are only a couple of details to fill out on their registration page.
That's all there is to creating a Betfair account!
In order to place bets, you'll want to have some available funds in your account. Remember that in order to place a Lay Bet, you need to have enough funds to cover the Liability and not just the Stake.
You're able to fund your account using any of the following methods, along with the minimum deposit amounts:
Visa / Mastercard – $10
POLi – $5
BPAY – $30
Bank Transfer – $30
Neteller – $25
Skrill – $15
Pay ID – $30
Osko – $30
There are never any fees for depositing money into Betfair.
I highly recommend using either a Visa or Mastercard Debit card to process your deposits. Doing this ensure your balance is available in your account instantly.
Once you have added your account details, Betfair only needs your card security number each time you want to deposit more funds into your account.
For matched betting, it's important to be able to deposit more funds quickly in case you find yourself lacking the funds to place a required lay bet. Often, this is a result of unluckily winning too many times in a row at the bookmakers.
Withdrawing is a slightly less user-friendly process, however this isn't an issue with Betfair. In Australia, banks place limitations on gambling sites withdrawing funds immediately into accounts. This means you can't withdraw immediately onto a Visa or Mastercard.
Instead, your options for withdrawing are:
Bank Transfer – 1-3 Working Days ($15 Min.)
Neteller – 1-2 Working Days
Skrill – 1-2 Working Days
I have made withdrawals from Betfair hundreds of times and never had a single issue with the Bank Transfer option. Generally, I have found it takes less than 24 hours to process as well.
There are never any fees for withdrawing money from Betfair.
To process a withdrawal, go to My Account > My Betfair Account where you will be able to find the below screen.
Gambling or Betting can be addictive.
I have personally been betting for over 10 years and have seen the dark side of gambling, including battling addiction. I am fortunate to have lots of support and have built a significant amount of mental control / coping mechanisms over time. This results in betting being a healthy side project for me.
If you find yourself exhibiting any signs of gambling addiction, please reach out to Australia's Gambling Help Online for support.
Betfair offers a number of key player protection tool that allow you to control your gambling in various ways. These are:
You can choose to take an enforced break from Betfair for 24, 48 or 72 hours. If you need to cool off a little longer then it can also last 7 or 30 days.
This blocks you from using any Betfair markets for that time period.
You choose a specific value that you are comfortable with potentially losing. This deposit limit can be set per day, week or month.
If you are gambling, it's very easy to chase losses. By setting a deposit limit, this can stop you from placing more bets to try and catch up with previous loses.
Reverse Pending Withdrawals
Reversing withdrawals is a very helpful feature if you realise you need funds in your account before a withdrawal has processed. However, this can also be used to keep funds in play to keep betting when you should stop after a win.
Sometimes, willpower only lasts for a few hours/days.
You can very easily set a specific amount of loss that you are willing to accept over a set period of time. This can be per day, per week, per month or per year.
Once set, increasing the size of your loss limit takes 7 days before it comes into effect. Unmatched bets count towards your loss limit.
You are able to block your account from accessing any Betfair markets. This is the last step before closing your account. It should be used to prevent any of the constant temptation to restart gambling.
You can exclude yourself for 6 months, 1 year, 3 years, 5 years or permanently.
Betfair has a number of settings options that change the way its markets behave and can optimise your betting experience. If you're a regular user of Betfair, it's definitely worth adjusting these settings to your personal requirements.
To manage settings, you'll find a Settings drop-down on the far right of the black navigation bar. The drop-down has 4 different tabs.
Lay Odds – You can hide the option to Lay bets if you only want to use Betfair for Backing events.
Market Depth – Hide any prices lower/higher than the best available odds.
Betfair Starting Price – Show/Hide the BSP and decide what method you want it to use for calculating what BSP might be.
Profit & Loss – 'Display net of commission' includes the commission payment as part of your potential winnings within the betting interface. Very useful to double check calculations.
Bet View – This sets the lowest liquidity Betfair will show at a certain price. For example, if there is only $3 available at odds of 3.1 then I wouldn't see that as being available. I would see the next best available odds.
Refresh Rate – Changes how fast the betting interface refreshes. A lower refresh rate allows you to see market shifts more quickly but puts more strain on your computer.
Confirm bets before placing – I always advise leaving this ticked so you can check your bets before they're placed. Once you submit your bet it's done!
Cash Out– Show/Hide whether the cash out options displays within the market view.
Confirmation – Adds an extra step to your cash out to confirm that you definitely want to proceed. Can save you from accidentally clicking on the cash out button.
Display Sport Zones– Unchecking this allows you to navigate through the left hand side bar without the main page refreshing.
Show Race Card Info – Particularly for Matched Betting, this is just hiding information that you don't need.
Quick Settings Panel – At the bottom of every market you can display a quick panel for changing the Default Stake, Refresh Rate and Bet View settings.
Alternative Colour Scheme – Fun but useless!
Every time you place a bet on a market, you're earning Betfair Points. If you earn enough Betfair points (varying levels), a discount rate will be applied to your future commission payments. For heavy Betfair users, this can be a good way to make your betting even more profitable.
To check your current amount of Betfair Points, navigate to My Account > My Betfair Account
Betfair points are calculated based on the amount of implied commission paid to Betfair.
Implied commission means they take a net (overall) view of a market and calculate the commission as if you had made a profit. This means you earn Betfair Points even if your bets are losing at Betfair.
Points are earned at 1 per every $0.1 of implied commission. So, if your bet loses $100 at a Market Base Rate (MBR) of 5% you would have $5 of implied commission. This earns you 50 Betfair Points.
However, Betfair Points decay. This is where you lose 15% of your total points ever week. So, in order to retain your commission discount you must continue betting at a volume that earns more than your decay rate. It's also possible to freeze your balance for a week every 3 months.
Discount from Betfair Points
There are varying levels of discount you can earn with Betfair Points, clearly shown in the below diagram.
Once you have reached a discount level, the commission discount can make a big difference. Consider a bet where we win $100, normally commission would be $5. If you reach the 40% discount level for 49,000 points then your commission is instead $3.
I have personally found these discount levels to be out of reach for most matched bettors or gamblers. So, unless you can afford to bet big, I wouldn't put any focus on earning these points.
---
I LOVE using the Betfair app.
Particularly when you're trying to do multiple things at once, or you need to place a quick Lay Bet when you're not at home, it's an absolute lifesaver. It's also a fantastic backup for when my Wi-Fi inevitably cuts out.
Available on the iOS App Store and the Google Play Store, anyone with a smartphone or tablet will be able to use the app. It's worth calling out that it's optimised for tablet use as well.
All the key features of Betfair, including all the sports markets are available for use on the app.
---
Alongside the myriad of unique betting features, Betfair produces some fantastic supporting content that's unique within the Betting industry. Simply reading the available information will take your betting game up a few notches and make you a more profitable bettor.
Accessed via the primary navigation bar, The Hub is Betfair's blog and content site. There are some key areas that should be interesting to most Betfair users:
Learning – Betfair has some incredible articles on to use their platform, explaining all the features in detail that I've touched upon in this guide. There's a very useful Hub 101 guide that covers some of the best articles to start with when learning Betfair. I absolutely love their series on the psychology of betting.
Racing – Easily one of the biggest sports on Betfair, it's no surprise that there is some seriously detailed content on The Hub. Articles include race previews and tips, however the most interesting part is a detailed ratings model that points out potential value on the exchange. I don't recommend following this blindly, however it can be a useful starting point.
Sports – Other sports are combined into one category with plenty of content surrounding AFL, NRL, EPL and NBA betting. Amazingly, they also have guides on how to make money betting on house prices.
Resources – The Hub also hosts all of Betfair's guidance on how to access their underlying data, use the platform with 3rd party tools and ways to use their API.
Betfair Australia also have a strong Youtube channel with a lot of guides and content in video format. Perfect if you're a more visual learner.
Always available quickly after the race, Betfair's results feature is able to provide detailed information on the final placings for most Australian Horse Racing events.
You can find the Results feature by navigating to Results in the primary navigation bar.
This is fantastic for identifying what the Betfair Starting Price was for a certain runner, then comparing that to what the Tote price would have been. This screen also calls out any scratchings and therefore reductions in your winnings. If you're not sure whether your payout was correct, it's always worth checking the Results page first.
Betfair Australia have fantastic Phone and Email support. I have always personally found them easy to contact and quick to resolve any issues I was having.
Their support centre is based in Darwin and is open 24/7 so you can reach them at any time.
To call Betfair support, use 1300 BETFAIR (1300 238 324)
To email Betfair support, use service@betfair.com.au
If you need, they are also very active on Twitter @Betfair_Aus
---
Just like you can trade stock markets, Betfair sports markets can also be traded. The premise is simple – buy low, sell high or sell high, buy low. If you time your bets correctly, you're able to guarantee yourself a profit regardless of the outcome, called a 'Green Book'.
I have dabbled in trading myself but was never hugely successful, so this guide is here to share with you the basics and point you in the right direction to learn more.
Trading is definitely possible using the standard Betfair interface, however you're limited by the refresh rate, bet confirmation and the speed you navigate the interface. You're also limited by the data and the way that data is presented.
That's where the Betfair API (Application Programming Interface) comes into play.
This allows external programs and websites to pull data directly from Betfair and display them in any way they please. Every tiny advantage matters when trading in a marketplace, so being able to pull and manipulate data however you want is exceptionally powerful.
Not only can you access the live Betfair markets and interact with live events, but you can also pull a wealth of historic Betfair information. All the information you need about the Betfair API and how it works can be found at their GitHub Repo.
Fortunately, you don't need to learn how to use the Betfair API to trade. There are plenty of tools you can buy that have already done the hard work for you. I discuss them a little later in a trading tools section.
To help you understand how trading can be profitable, I'll share a hypothetical example:
Sydney Swans are 2.1 to win a match and 2.2 to lay. I place a back bet of $100 on them.
As the market shifts, they come in to 1.7 to win and 1.75 to lay. I place a lay bet of $120 on them.
Sydney Swans Win
My back bet wins +$110
My lay bet loses -$90
Total: +$20
Sydney Swans Lose
My back bet loses -$100
My lay bet wins +$120
Total: +$20
Whilst this is definitely an exaggerated example, it does show how trading can be a profitable pursuit when the odds move in your favour. All of these bets can be placed on Betfair and you would only pay commission on your $20 winnings.
If you want to start learning trading, I suggest you start with the following resources:
My advice is to exhaust other forms of making money such as matched betting before turning to trading. It's difficult and takes a long time to master enough to earn any profit. Be aware of anyone trying to sell the 'secrets' to trading. If their secrets worked, they would be keeping them to themselves and taking all the profit.
With people like traders needing quick, efficient access to Betfair markets, it's no surprise that there are tools using the Betfair API that make this possible. There are quite a few tools out there, though I'm going to focus on two of the biggest.
I used 'The Geeks Toy' when trading myself, so I can vouch for it's ease of use and fantastic user interface. However, powerful tools like this do take some getting used to. Here's a screenshot of the interface:
Whilst it may look complicated, you should be able to identify some of the concepts already discussed in this guide, such as the Price/Volume graphs. Each column is simply showing the full market depth for each selection. You're then able to make 1-click trades based on a bet size of your choice.
Remember how that in-play market moved so quickly? This interface makes it much easier to follow that market and potentially profit off movements in price.
The Geeks Toy costs just 20 GBP for 3 months access (around $40).
Recommended by Betfair, Bet Angel is another 3rd Party trading software. The differences between Bet Angel and The Geeks Toy can often come down to personal preferences, so I would recommend taking the free trials of each before paying.
One of the advantages of Bet Angel is betting strategy automation. You can set a number of parameters and the software will place bets automatically for you. Find the right situations and this can be like printing money.
I made that sound easy… if it was I'd be doing it myself!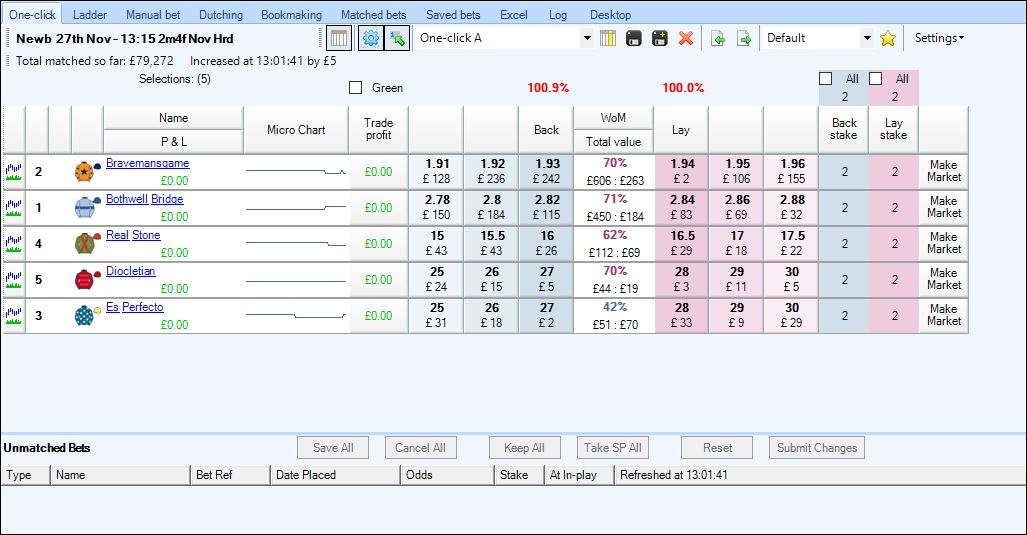 ---
Betfair is key to the application of matched betting strategies. For those who haven't heard of matched betting before, it's a simple technique taking advantage of bookmaker promotions to guarantee profit from sporting events. 100% risk-free!
This site has all the core matched betting guides you need to get started today.
If you're new to matched betting, this could be the start of your journey to making over $1500 in the next month.
If you're wanting to level up your matched betting by increasing your profits and decreasing the time spent then I highly recommend investing in a subscription to BonusBank. Their tools make a huge difference by helping you find the best bets in seconds with a helpful community backing you up.
---
If you're looking to learn more about Betfair and associated topics, I recommend the following sites:
Note: I'm not endorsing any paid products for these further reading sites.
---
Thank you for reading my definitive guide to Betfair Australia. I hope you have found it useful.